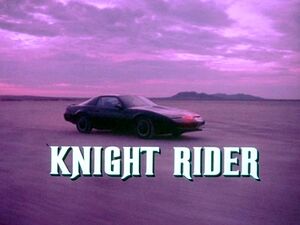 Knight Rider is an American television series that ran from September 26, 1982, to April 4, 1986. The series was broadcast on NBC and starred David Hasselhoff as Michael Knight, a modern-day "knight" who drove an advanced car called K.I.T.T. with artificial intelligence while fighting crime.
Conceived and produced by Glen A. Larson, the show was an instant hit.
Intro and Outro
The intro through out most of the episodes, always began with a narration:
"Knight Rider, a shadowy flight into the dangerous world of man who does not exist.
Michael Knight, a young loner on a crusade to champion the cause of the innocent, the helpless, the powerless in a world of criminals who operate above the law."
Throughout the first season, the outro was Michael and K.I.T.T. driving though a road in the desert with Wilton Knight's words of "One man can make a difference Michael."
Then the narration goes on to say:
"Michael Knight, a lone crusader in a dangerous world. The world of the Knight Rider." The Outro of most of the other seasons was Michael and K.I.T.T driving into the sunset.
Cast list
Crew
Episodes
See Also
Ad blocker interference detected!
Wikia is a free-to-use site that makes money from advertising. We have a modified experience for viewers using ad blockers

Wikia is not accessible if you've made further modifications. Remove the custom ad blocker rule(s) and the page will load as expected.