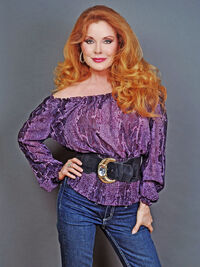 Rebecca Holden (born June 12, 1958) is the Actress who portrayed April Curtis in the Second Season of Original Knight Rider Series.
Early life and career
Holden was discovered in New York City by an agency and started appearing on magazine covers and did commercials. She moved to Hollywood and her first appearance on TV was a guest spot on Three's Company, but it wasn't until 1983 when she got her big break starring on the 1982 hit TV series Knight Rider as April Curtis during the show's second season from 1983 to 1984.
After Holden left Knight Rider she appeared in some movies and had more guest appearances on TV shows, some of which include Magnum, P.I., Matt Houston, and Cheers. Holden starred on the soap opera General Hospital as Elena Cosgrove in 1987.
Holden charted two singles for TRA-Star Records in 1989: "The Truth Doesn't Always Rhyme" and "License to Steal", which charted at numbers 82 and 78 respectively on Hot Country Songs. She has since returned to acting.
Despite a popular misconception, she is not related to the late William Holden.
Ad blocker interference detected!
Wikia is a free-to-use site that makes money from advertising. We have a modified experience for viewers using ad blockers

Wikia is not accessible if you've made further modifications. Remove the custom ad blocker rule(s) and the page will load as expected.