When activated, KITT could fire a small rocket out of his tailpipe. Michael used the Rocket fire to cause boulders to collapse in order to stop a flooding river.
("Not a Drop To Drink")
Michael can also use Rocket Fire to launch Ultra-magnesium Charges. The Charges were used so KITT could evade the missiles of a helicopter.
("Merchants of Death")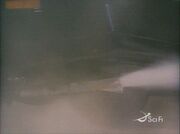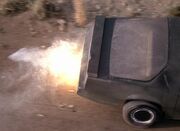 ---
In "Give Me Liberty..." Michael hit Rocket Fire to leap over a racing car. This lead some fans to believe Rocket Fire could be used a substitute for Turbo Boost, but it was obviously a mistake made in the editing room.
Ad blocker interference detected!
Wikia is a free-to-use site that makes money from advertising. We have a modified experience for viewers using ad blockers

Wikia is not accessible if you've made further modifications. Remove the custom ad blocker rule(s) and the page will load as expected.