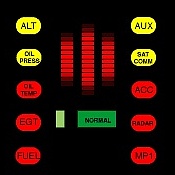 K.I.T.T. and K.A.R.R. both appear to talk by means of a Voice Synthesizer which speaks through a Voice Modulator, or voice box.
Specifications
Set in the dashboard, the graphical display would flash in time with the sounds created by the onboard AI.
Trivia
Ad blocker interference detected!
Wikia is a free-to-use site that makes money from advertising. We have a modified experience for viewers using ad blockers

Wikia is not accessible if you've made further modifications. Remove the custom ad blocker rule(s) and the page will load as expected.